Love Pumpkin in ALL Seasons
Posted by South Plains Implement
Oct 26, 2023 10:40:00 AM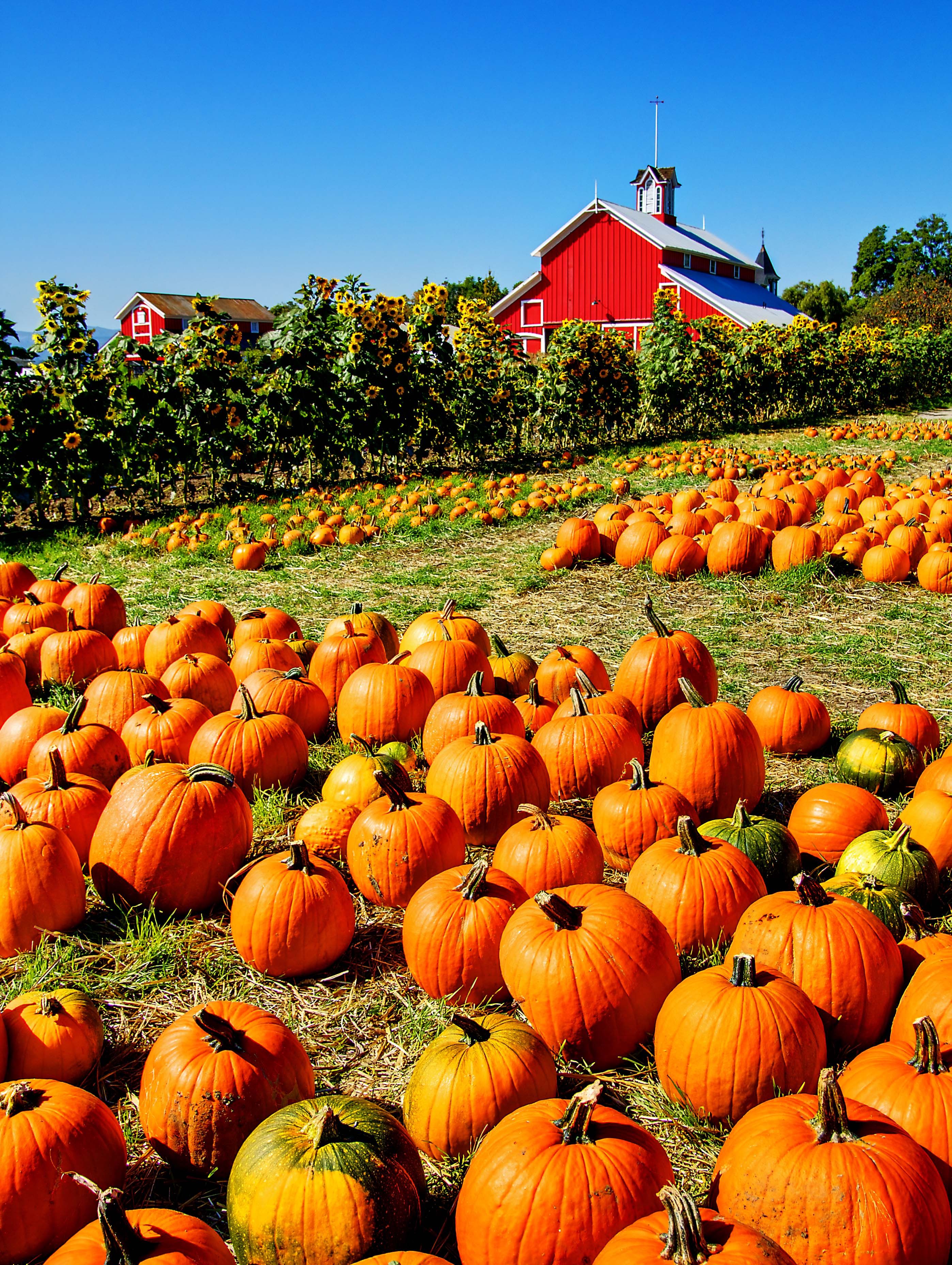 Love Pumpkin in ALL Seasons
When you think about pumpkins, what is your first thought? Pumpkin Spiced Lattes? Pumpkin pie? Carving jack-o-lanterns? There is more to pumpkin than drinks, desserts & décor. Pumpkins have numerous health benefits, so here are just a few reasons to add pumpkin as a pantry staple year-round.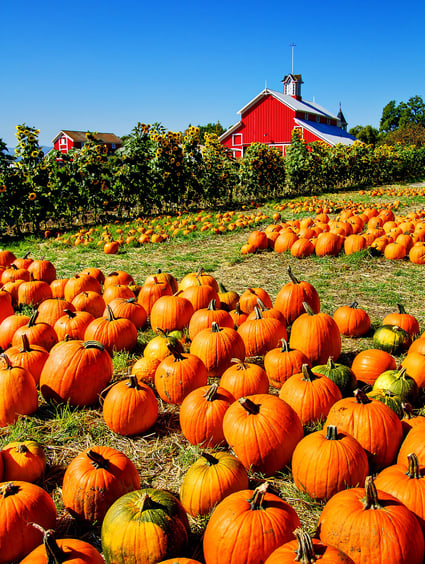 It's high in Vitamin A
Carrots aren't the only vision MVP's! One cup of pumpkin contains over 200 percent of the recommended daily intake of vitamin A which aids in eye health and night vision.
Loaded with Vitamin C
Try swapping your Zicam or Vitamin C meds with pumpkin for a change! Just one cup of pumpkin contains 19 percent of your recommended Vitamin C daily intake. This antioxidant is known for strengthening the immune system helping your body fight infections, viruses and infectious diseases.
While you're boosting your immunity, you can also be plump up the collagen production and iron absorption which can aid in signs preventing premature aging. Makes sense why all the face masks have pumpkin in them!
Filled with Fiber
Varying on age and gender, fiber needs range from 25-35 grams per day. This is a nutrient most of us do not get enough of, but with the help of pumpkin, one cup contains 7 grams to fill you up! Fiber helps with healthy digestion, lowering cholesterol and keeps us fuller longer. Not saying I would stop after one slice of pumpkin bread, but the fiber might help me make round two a little later!
Awesome for muscles
Pumpkin contains magnesium, another nutrient we do not get enough of, that is vital for energy creation, muscle relaxation and nervous system regulation. In just one cup (are you seeing a theme here?), you will get 14 percent of your daily recommendation. Add in some pumpkin seeds, and you bump that up to 37 percent! You can easily mix in chopped and toasted pumpkin seeds to salads, yogurt or just eat them on their own for a magnesium boost!
Pumpkins pack in the potassium
Potassium is necessary for muscle recovery (big proponent in alleviating lactic acid build-up), digestion, water balance and healthy blood pressure. If you are an athlete and depleting the electrolytes in your body, it is critical to restore this nutrient to keep pushing your body in workouts. One can of pumpkin alone contains 500mg of potassium – more than the amount in a large banana. I will definitely be giving this a try on my next long cycling ride because carrying seeds seems so much easier than a banana!
Pump up for your Heart
Pumpkin seeds are rich in chemicals which help lower your LDL (bad) cholesterol and have even been shown to fight off oral and lung cancers.
Put on a happy face
As if you needed another reason to eat more pumpkin, it will put a smile on your face! Pumpkin seeds contain mood boosting amino acids aiding in serotonin production leading to better sleep, mood and higher pain tolerance. And here my friends is why you see so many happy people wandering in Target with their PSL's, haha!
Lucky for you, canned pumpkin is budget friendly and available year-round, so you don't have to limit your pumpkin intake to October and November. Support your local farmers at your in-town farmers markets, and pick your perfect pumpkin while they are in season for fresh purees and pumpkin seeds. Oatmeal, baked goods, soups and more are just dying to have pumpkin added to their mix! I'll leave you with a one of my absolute favorite pumpkin recipes that is constantly on repeat at my house due to how filling, easy to prepare, and awesomely filling it is after workouts! Enjoy, and happy fall!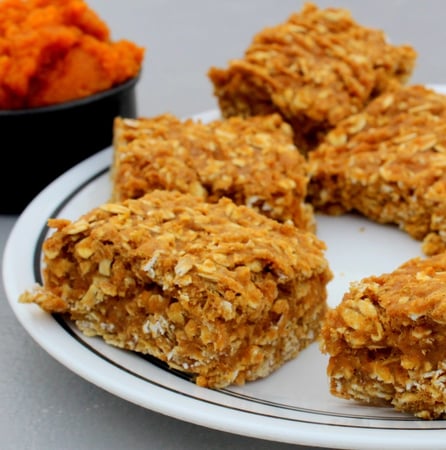 Pumpkin Zucchini Oat Bars – Serves 6 – 156 calories per serving
Ingredients:
1 packet Stevia (or your favorite sugar substitute)
3 tsp Baking Powder
Pinch of salt
4 oz water
205 grams canned pumpkin
7 grams Fat Free/Sugar Free Instant Vanilla Pudding Mix (dry)
240 grams shredded zucchini
120 grams dry Old Fashioned Oats
50 grams protein powder of your choice (I use PE Science Snickerdoodle Protein Powder)
300 mL liquid egg whites
Directions:
Preheat oven to 350 degrees F.
Shred zucchini (I keep pre-portioned already shredded packets in our freezer and set out in the fridge the night before to make this process even quicker & if your family is weird on textures, feel free to puree this in your blender and add in that way)
In a large bowl (big enough to hold dry when you add them later), combine all wet ingredients (water, pumpkin, shredded zucchini, and egg whites)
In another bowl combine all dry ingredients (stevia, baking powder, salt, pudding mix, oats, and protein powder)
Pour dry mix into wet mix bowl and stir until smooth and ingredients are all mixed in. If you need to add more water here, you definitely can.
Pour mixture into a greased 9x13 baking dish (or you can line it with parchment paper to make removal even more a breeze when done)
Bake for an hour. Remove from oven and let cool. Cut into 6 squares.
The bars will keep in the fridge for a week, or if you are like me and a meal prepper, you can wrap in foil and freeze. To warm after freezing, set out the night before and they will be good to microwave for breakfast the next morning.
Credits:
https://spoonuniversity.com/lifestyle/protein-bar-to-eat-based-on-your-favorite-chocolate-bar
https://www.webmd.com/food-recipes/features/6-surprising-health-benefits-of-pumpkin
https://www.wellandgood.com/benefits-of-pumpkin/