Good Things, Small Packages: John Deere Compact Utility Tractors
Posted by South Plains Implement
Jul 11, 2023 11:33:54 AM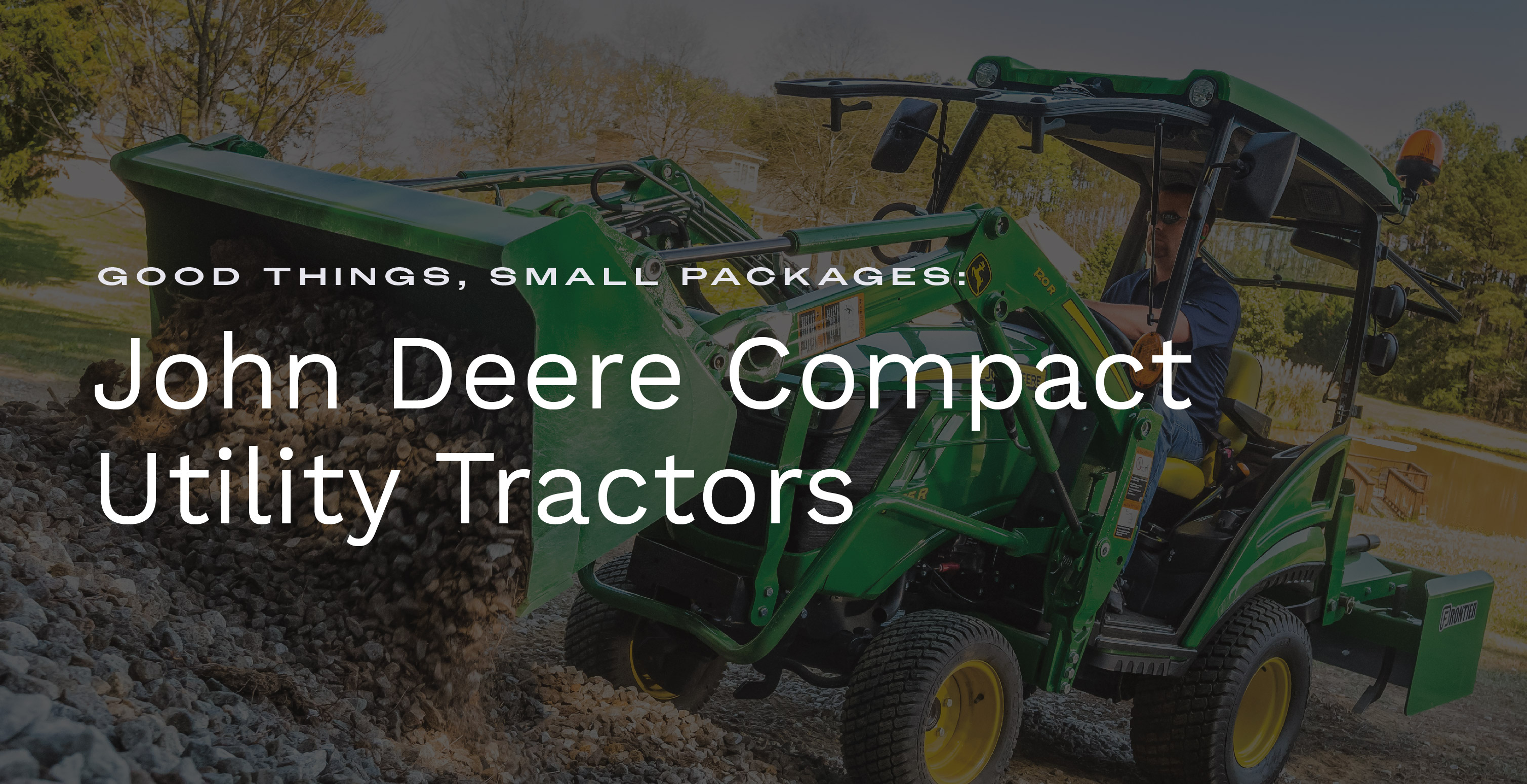 When it comes to efficiently managing your land or just getting things done, having the right equipment makes all the difference. Renowned for their exceptional performance, versatility, and durability, John Deere compact utility tractors are trusted by farmers, landowners, and professional contractors alike. Today, we look at their best features and highlight the remarkable capabilities of the John Deere 1025R sub-compact tractor, a real gem in this lineup.
Why You Need a Compact Utility Tractor
Tiny but Mighty
Don't let their size fool you—John Deere compact utility tractors pack an impressive punch. Despite their compact design, these machines are engineered with powerful engines that deliver high torque and exceptional performance. Whether you're working on a small farm, maintaining a large garden, or completing demanding construction projects, these tractors provide the necessary horsepower and pulling capacity to get the job done efficiently, even when you're in a tight spot.
A Jack-of-All-Trades
These machines offer a wide range of attachments and implements, from loaders and backhoes to tillers and mowers. These tractors can seamlessly switch between different jobs, providing incredible versatility. Whether you need to dig trenches, lift heavy objects, or prepare the soil for planting, we've got you covered. The ability to quickly and easily attach and detach implements ensures that you can adapt to various tasks efficiently and complete them in a timely manner, all with a single machine.
Built for the Long Haul
At SPI, we believe that purchasing a John Deere compact utility tractor is a long-term investment. These tractors are built to last with high-quality materials, undergoing rigorous testing to ensure durability in challenging environments. With proper maintenance, a John Deere tractor can serve you for years; plus, we are committed to making sure you can get the parts and service you need to keep on moving.
Easy to Use
User-friendliness is key to efficiency. That's why these tractors feature intuitive controls, ergonomic seating, and a well-designed operator station. Advanced technology, like digital displays and smart systems, is making operations easier than ever before. Whether you're an experienced professional or a novice user, John Deere compact utility tractors are built for you.

Among the outstanding options in the John Deere compact utility tractor lineup, the John Deere 1025R is a fan favorite. This powerful little tractor gets the job done with a variety of available attachments perfect for whatever is on your to-do list.
Key Features:
24.2 horsepower engine delivers impressive power, despite its compact size
Patented systems make implements easy to swap, meaning less time switching equipment and more time working.
Can be equipped with a drive-over mower deck, parking loader, and factory-installed backhoe (among other options)
An optional cab offers operator comfort year-round.
4-wheel drive and compact wheelbase provides excellent stability on any terrain
Twin Touch foot controls and a hydrostatic transmission make it easy to change speed and direction quickly so you can work safely in tight spaces.
Check out the 1025R with local expert Kris Murphy:
At SPI, we know buying a compact utility tractor will help you mow, build, lift or built with more efficiency. Whether you want to discuss the best machine for your job, available implements, how to make the most of your tractor, or when to get it serviced – we want to help! These little tractors offer unparalleled flexibility, power, and longevity so you can spend more time getting the stuff done that matters to you. That's the power of a John Deere.