Getting The Job Done Right: John Deere Compact Construction Equipment
Posted by South Plains Implement
Jun 1, 2023 12:00:00 PM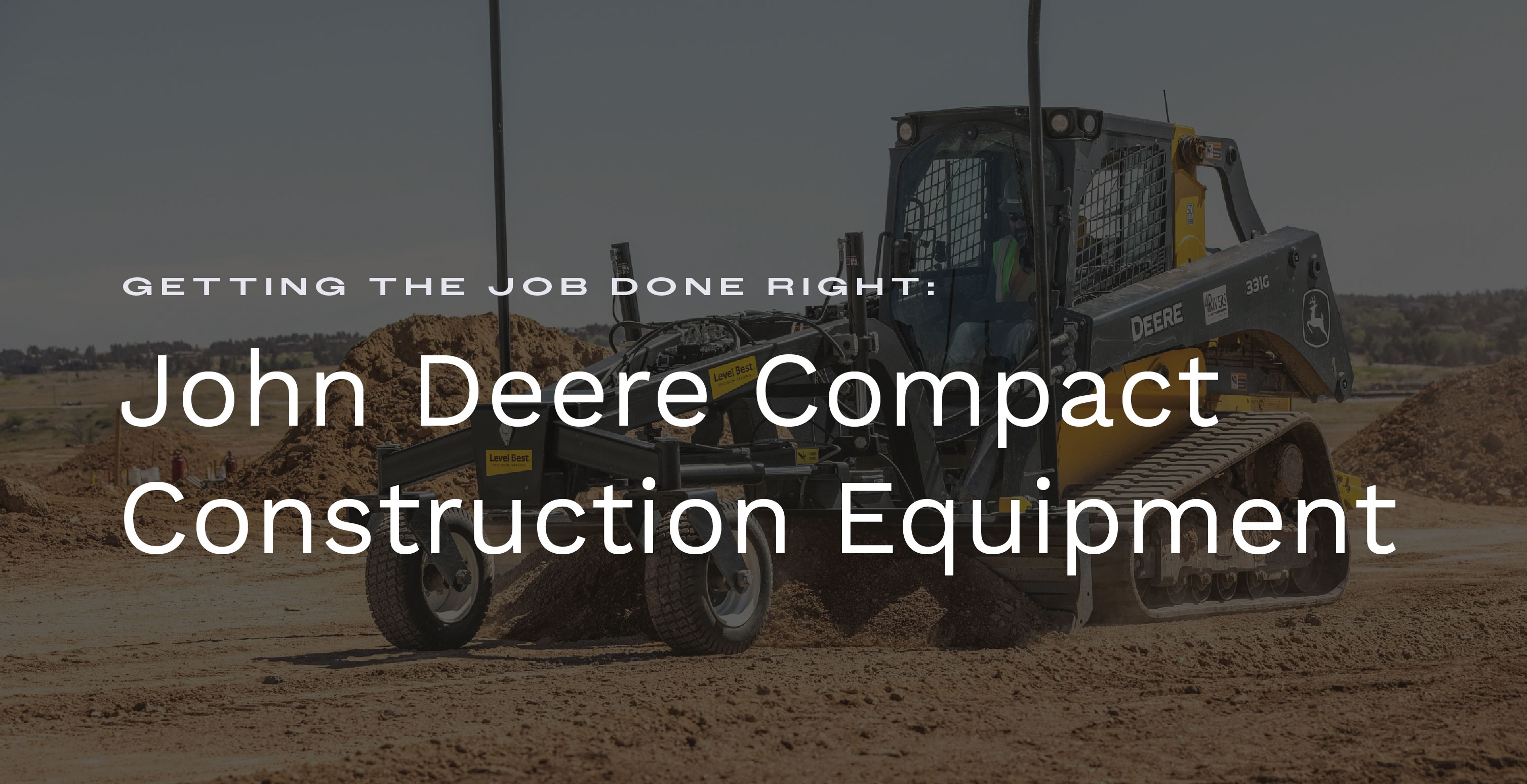 In the ever-evolving world of construction, efficiency and productivity reign supreme. You want and need equipment that not only performs reliably, but also optimizes your workflow.
With a rich heritage and a commitment to innovation, John Deere and SPI offer a wide range of machines that cater to particular construction needs. Here we explore the advantages of John Deere compact construction equipment (CCE) and shine a spotlight on the remarkable 17G compact excavator, a true workhorse in its class.
Advantages of John Deere Compact Construction Equipment
Unmatched Versatility
If there's one thing John Deere's CCE line excels at, it's versatility. From landscaping to road construction, these machines adapt effortlessly to the ever-changing demands of the job site. With its compact size and superior maneuverability, John Deere equipment allows you to access tight spaces with ease, making it ideal for jobs in confined areas.
Exceptional Performance
These machines are built to withstand the toughest conditions, ensuring maximum productivity on your job site. Equipped with advanced hydraulic systems and robust engines, they deliver powerful performance, allowing you to tackle challenging tasks efficiently.
Enhanced Comfort and Safety
John Deere places a strong emphasis on your comfort and safety as the operator. The cabs are designed with ergonomics in mind, providing a comfortable and intuitive workspace that minimizes fatigue. Additionally, these machines are equipped with advanced safety features such as ROPS (Roll-Over Protective Structure) and FOPS (Falling Object Protective Structure), optimizing your safety on the job.
Fuel Efficiency
Equipped with advanced engines and smart technologies, these machines optimize fuel consumption without compromising performance. By reducing fuel costs and emissions, you can enjoy significant savings over the life of your machine.
Unrivaled Support and Service
John Deere's dedication to your satisfaction extends beyond the purchase of their equipment. As a licensed John Deere dealer, SPI offers exceptional after-sales support and service at all of our 19 locations in West Texas and New Mexico. This network ensures that you can rely on timely maintenance and repairs, minimizing downtime and maximizing productivity.

Among the wide range of John Deere CCE, the John Deere 17G compact excavator shines as a true powerhouse. With its exceptional digging capabilities and nimble maneuverability, the 17G allows you to navigate through tight spaces effortlessly while delivering powerful performance.
Key features of the John Deere 17G compact excavator include:
Impressive digging depth and reach, allowing for efficient excavation tasks.
Easy and intuitive controls, enabling operators to work with precision and confidence.
Excellent stability and balance, ensuring safety on uneven terrain.
Rugged construction and durable components, guaranteeing long-term reliability.
Comfortable and ergonomic cabin design, reducing operator fatigue during extended work periods.
Learn more about the 17G with local expert, Josh Mathes.
Choosing John Deere compact construction equipment provides a winning combination of versatility, performance, comfort, fuel efficiency, and outstanding support. These advantages make John Deere the go-to brand for all your construction projects. Visit your local SPI to find the equipment you need to get the job done right.